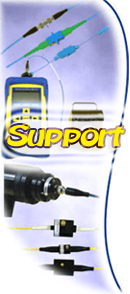 Executive Bios
Ömür Sezerman is the founder and the Company's President and Chief Executive Officer. He has served as a member of the board of directors since August 1985 and he served as Secretary from August 1985 to July 2000. Mr. Sezerman holds a bachelor's degree in Physics and Engineering in Electronics from Bogazici University, Istanbul, Turkey, and a master's degree in Solid State Physics from Dalhousie University.

Garland Best has been employed by OZ Optics since 1991 and is currently serving as its Vice-President, Components. Mr. Best has been a Director since July 2000. Prior to joining the Company, Mr. Best obtained a bachelor's degree and master's degree in Science from the University of Waterloo.

Gordon Youle has served as the Company's Vice-President, Test Equipment since July 1999. Mr. Youle was a member of the Company's board of directors from August 1985 to April 1999. Mr. Youle was a Physical Scientist with the Department of Fisheries and Oceans, Bedford Institute of Oceanography, Metrology Division from 1982 to 1999. Mr. Youle holds a bachelor's degree in Engineering Physics and a master's degree in Physics from Dalhousie University.

Martin Powell is responsible for global operations, including Manufacturing, Procurement, Quality and Customer Service. He is also the prime OEM contact at OZ Optics. Martin has over 20 years of senior management experience in manufacturing operations and an additional 15 years in customer relationship management. Before joining OZ Optics, Martin managed operations at Nortel Networks, JDS Uniphase, CompaQ and Digital Equipment Corp. Martin holds a diploma in Electronics from Algonquin College and completed the Executive Development Program at the University of Toronto.